"Worst Part Was Leonardo DiCaprio Walked…": Arnold Schwarzenegger and Sylvester
Legendary actor and seven-time Mr. Olympia winner Arnold Schwarzenegger dominated the box office with his incredible performance in The Terminator. There was a time when he had the biggest rivalry in Hollywood. His rivalry with Sylvester Stallone used to make the big headlines in the news.
ADVERTISEMENT
Article continues below this ad
 However, in contrast, Arnold's son Joseph and Sylvester's daughters Sophia and Sistine have a good friendship. In a podcast, Baena and Stallone's sisters revealed how they made a billionaire actor awkward at the party. The actor who left after they started performing the karaoke was none other than Leonardo DiCaprio.
ADVERTISEMENT
Article continues below this ad
Joseph Baena's ultimate karaoke skills
Baena recalled this embarrassing moment during a podcast with Sophia and Sistine Stallone in Unwaxed podcast. He was drunk and wanted to showcase his singing talent before leaving the party. But the hilarious moment is a reason for DiCaprio to take a u-turn from there.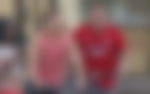 First, Joseph stated how Arnold tried to take him home when he was drunk, "Let's do karaoke; I got so drunk like my dad was like, it was like 10:30; my dad was like all right joe like we're I'm taking you off. I was like, what are you doing? I was like, oh no, like, I got one more song." Then, remembering how he told Arnold to go home because he wanted to sing more. He said, "I got another song, so you go you go ahead, and I didn't realize that he was my right like I didn't."
Meanwhile, seeing their singing skills, people started leaving the party. However, when Joseph was singing, DiCaprio came but walked out of there as soon as possible. He said, "I stayed with you like we were singing karaoke everyone left. I was just uh, I looked up, and like everyone was gone. (Sophia added) Well, I remember what happened. First of all, the karaoke, you killed it. I have videos on my phone of you singing. The worst part was Leonardo DiCaprio walked at the moment we were mid-song and walked out. (Baena in shock) He was there Yes, yes, for two seconds. He literally walked in and saw us singing and actually left the party." Hilariously, their singing made the Titanic fame actor leave the party. 
ADVERTISEMENT
Article continues below this ad
Arnold Schwarzenegger and Sylvester Stallone's rivalry  
One of the biggest rivalries in Hollywood started with the bowl of flowers. The first time hate started to blend into Schwarzenegger's and Stallone's minds was in 1977. At the Golden Globes award event, Sylvester picked up the giant bowl of flowers and threw it toward the bodybuilder. From time to time, Stallone has stated that he "couldn't stand to be in the same galaxy together."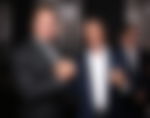 ADVERTISEMENT
Article continues below this ad
In addition, once Arnold tricked Stallone into signing a bad script named 'Stop! Or My Mom Will Shoot.' But as time passed, their rivalry also faded. Now both of them are famous Hollywood stars.


Read More: "Worst Part Was Leonardo DiCaprio Walked…": Arnold Schwarzenegger and Sylvester