"Brock Sent Rock to Hollywood": Fans Become Nostalgic as Brock Lesnar and Dwayne
Brock Lesnar has been a dominant force in WWE, ever since the day he set foot in the ring. The Beast Incarnate has won several championships while squashing some greats inside the ring. He first arrived in WWE in 2002 and set his mark from the first day onwards.
ADVERTISEMENT
Article continues below this ad
Lesnar, in the truest sense, is a beast inside the ring. He won the 2002 King of the Ring in his very first year and the 2003 Royal Rumble. His size and wrestling abilities provided him with a huge push and made him one of the top stars.
ADVERTISEMENT
Article continues below this ad
Brock Lesnar became the youngest WWE champion at 25. He defeated Dwayne "The Rock" Johnson to win his first championship in WWE at the 2002 WWE SummerSlam. The Rock lost his championship and turned his focus toward Hollywood soon after. The 2002 era was the start of the Ruthless Aggression era, and it had its champion in Brock Lesnar.
Lesnar was built as 'the next big thing' in WWE and was given a massive push by the company. Credit also goes to The Rock who put Lesnar over and built him in a way that dominated his in-ring abilities and heel-ish persona.
DIVE DEEPER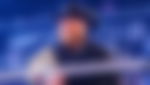 After a video resurfaced on social media, featuring the superstars during their vintage fight up, fans started getting nostalgic.
One fan took a dig at that moment and wrote this:
correct caption should be:
20 years ago brock sent rock to Hollywood.

— 🕊️ (@saketjaiswal_sj) August 25, 2022
Other fans were of the opinion that, The Rock they saw that night was the best version of The Rock.
then what we don't see is rock went heel on the crowd this night & started the best version of the rock, Hollywood Rock.

— the one & only (@irondhosea) August 25, 2022
I hated Lesnar for a few years after this
Then I realised why it was necessary and what a stand-up guy Rock was and has always been

— Omkar Kulkarni オムカルクルカルニ (@om2kool) August 25, 2022
One of my favourite matches. Both are great here. The crowd too play their part.

— MegaSting1981 (@MegaSting1981) August 25, 2022
That pop Lesnar got after the W was awesome. Well done by all involved!

— Barely Watching Wrestling (@BarelyWatchingW) August 25, 2022
Best card I've ever seen in person and the crowd was on fire for this match

— John (@Enric0Pallazz0) August 25, 2022
That was a good match. I'm a rick fan I was mad but I understand what needed to be done

— Positive Vibes 4 ever (@tpositive11) August 25, 2022
Finish was so smooth and clean

— [FREN] Legend_Swift (@Legend_SwiftYT) August 26, 2022
One fan even acknowledged that SummerSlam as the best.
Still the best SummerSlam ever from top to bottom.

— Brandon Burnett (@uncbb78) August 25, 2022
ADVERTISEMENT
Article continues below this ad
Brock Lesnar confirmed to return to WWE in 2023?
The Beast Incarnate has always been a ticket-selling machine for WWE. He is one of the most popular superstars in WWE and…


Read More: "Brock Sent Rock to Hollywood": Fans Become Nostalgic as Brock Lesnar and Dwayne