Kanye West is nothing if not over the top and his spending is no different.
According to the Forbes' net worth tracker, the "The Life of Pablo" rapper is worth a whopping $2 billion.
While most people are aware of West's successful foray into the fashion industry with his GAP clothing line and his contract with Adidas in 2013 that brought us the Yeezy sneakers, many might forget that West was actually deep in debt some seven years ago.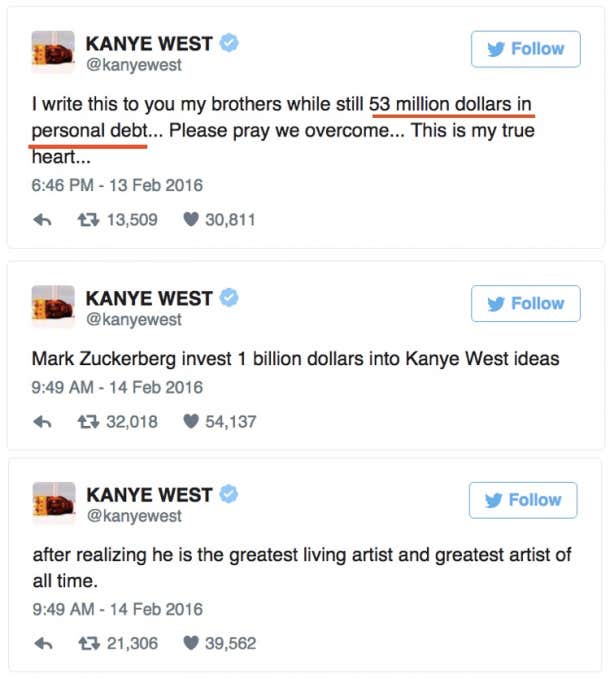 Twitter
After going on Twitter and revealing that he was down 53 million in personal debt and asking Mark Zuckerberg to invest 1 billion into "Kanye West ideas," many wondered how he lost so much money in the first place.
Here are 11 expensive purchases that helped throw Kanye West into debt.
1. Kim Kardashian's diamond rings.
When West got engaged to his former wife, Kim Kardashian, he bought her a 15-carat diamond ring that was designed by celebrity jeweler Lorraine Schwartz, according to Diamond Hedge.
The price of the ring was reportedly worth around $1.3 million, and while that pales in comparison to the $8 million ring he gifted her before they divorced, that money would have meant a lot more to him back in October 2013, just a couple of years before his debt revelation.
2. A pair of heavily-armored SUVs.
According to the automobile blog, Jalopnik, West made a Prombron purchase with Latvian car maker, Dartz.
Although the Prombron SUVs go for around $400,000 at retail, West's heavily armored modifications ran him upwards of $1 million — for each.
The $2 million purchase was a means of protecting his family, but little did he know that the consequences of his purchase would leave him alone in protecting his bank account.
3. Expensive international jet flights.
Among the long list of stars who take an absurd amount of flights in their private jets, West reportedly made a series of expensive international flights around the time Kardashian was still pregnant with their daughter, North West.
"We're told Kanye has made at least three trips via private jet from Paris to L.A. (costing about $100k total) so that he can be in attendance for Kim on her checkups," TMZ reported in 2013.
That's around over $33,000 for one flight, and those are only the recorded flights — who knows how many times Kanye made these international trips.
4. Flowers for his wife on special occasions.
In 2014 alone, Kanye spent over $140,000 on flowers for his wife on two separate occasions, according to Elle.
On Valentine's day, Kanye gifted Kardashian a thousand red roses, which cost him $3,750.
Not bad, but for Mother's Day, Kanye went above and beyond when he ordered an entire wall of white roses, hydrangeas and peonies worth around $136,000.
Only his bank account knows what else he spent for her on her birthday.
5. Kim's birthday Birkin and Hawai'i getaway.
Elle reported that for Kardashian's birthday in 2014, Kanye spent $100,000 for a…


Read More: 11 Expensive Purchases That Put Kanye West Into Debt