Dee Devlin Publicly Replies With Just 5 Words on Conor McGregor's Clean Shaved
Conor McGregor and his love for social media isn't a hidden fact. The Irishman prefers keeping his fingers busy by posting various updates on his social media handles. His posts may be about himself, his family or a diss towards anyone in the fight game. McGregor never falls short to put out his views without any second thoughts on his social media accounts. His posts also garner a lot of reactions from fans, which often include former and current fighters. But this time, it was his lady Dee Devlin who embellished McGregor's recent Instagram post.
ADVERTISEMENT
Article continues below this ad
Devlin and McGregor have been in a relationship for over a decade now. They have been through the best and worst of life together. Devlin comments on 'Mystic Mac's' posts quite frequently.
ADVERTISEMENT
Article continues below this ad
Dee Devlin wanted to fly away with Conor McGregor
The snap uploaded by McGregor showcased him in a pilot's outfit, along with Devlin in a flight attendant outfit and a part of their youngest child, Rian. McGregor's look could be compared to the noted Hollywood actor, Leonardo Di Caprio. 'The Notorious' captioned his post, "The sky is the limit, come fly with me. #happyhalloween @theblackforgeinn"
It was evident that 'the Crumlin native' was celebrating Halloween to the fullest at his very own 'The Black Forge' Inn.
This post also pleased 'MacGregor's lady'. She commented, "Let's fly, let's fly away". Her feeling was evident as she also ended her comment with a heart emoji.
Devlin's comment also was the perfect reply to McGregor's caption, "come fly with me".
McGregor and Devlin have actually flown high together
Dee Devlin is very close to the ideal woman that a man needs in his life. She has been with McGregor as a support from the time he wasn't what we know him for. The fight game often leaves combatants worn out and broken. But Devlin was there as a 'fix' to every break that McGregor suffered.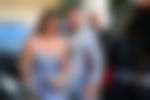 Today, they have everything that one can possibly desire. Hence, a lot would agree that they have held onto each other strongly and flown very high together.
ADVERTISEMENT
Article continues below this ad
Watch this Story – Despite his Billionaire status, Tiger Woods' exquisite watch collection looks meager in front of Conor McGregor's jaw-dropping treasures
Yet, the world only seems to be perfect when you are just with your loved one. Hence, Devlin wished to "fly away" from everyone and everything with just her love by her side.
ADVERTISEMENT
Article continues below this ad


Read More: Dee Devlin Publicly Replies With Just 5 Words on Conor McGregor's Clean Shaved