Joining Hollywood, LeBron James Was Seen With Superstars Leonardo DiCaprio and
LeBron James shocked the NBA world when he left the Cleveland Cavaliers for the second time in 2018 and joined the Los Angeles Lakers. The Lakers and Hollywood was the ideal destination for the King in his twilight years. James has invested in several ventures, from selling pizza to production houses worth millions. On his arrival in Los Angeles, James had a power dinner with two of the most famous stars of Hollywood.
ADVERTISEMENT
Article continues below this ad
LeBron James signed with the Los Angeles Lakers in July 2018. Soon after, James arrived at LAX. In his first days in Hollywood, James made sure not to waste any time and establish his presence in the city of stars.
ADVERTISEMENT
Article continues below this ad
DIVE DEEPER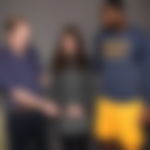 James had dinner with two of the most influential individuals in Hollywood, Leonardo DiCaprio and Al Pacino whose movies have grossed Billions in revenue. On a Mid-July Wednesday night, he had a star-studded dinner with them. Interestingly, this was his second star-studded dinner before even dining with his Lakers teammates as per reports.
LeBron James had a 'Star' dinner after arriving in LA
The dinner took place in a seafood restaurant called Avra, located in the affluent Beverly Hills. It was more business than casual dining, as James's business partner Maverick Carter also joined the three. Many fans at the time speculated a possible collab between the three, but nothing of that sort has come to fruition yet.
After the dinner, Leonardo DiCaprio came out through the front door while LeBron James, Carter, and Al Pacino exited through the back door. Leonardo has been a Lakers fan for a very long time. The star actor, on multiple occasions, has been sighted on the courtside during Lakers games.
ADVERTISEMENT
Article continues below this ad
After joining the Lakers, The King's first season in Hollywood was a massive failure. The roster at the time was comprised of young and inexperienced players. Moreover, James had suffered a groin injury that sidelined him for most games that season. The following season, the Lakers moved heaven and earth to acquire All-star forward Anthony Davis from the New Orleans Pelicans. The duo of James and Davis willed the team to a championship in the roller coaster ride that was the 2019-20 season.
Watch the Story – 6'3" Bronny James perfect impression of father LeBron James career highlight has NBA fans on the edge of their seats
ADVERTISEMENT
Article continues below this ad
But since that dream run in 2020, the Lakers have failed massively in the last two seasons. Moreover, their acquisition of the All-star point guard Russell Westbrook has been a disaster so far. This season, the Lakers stand among the worst teams in the league, with an egregious record of 1-5.
Do you think the Lakers will make the playoffs this season? Let us know in the comments down…


Read More: Joining Hollywood, LeBron James Was Seen With Superstars Leonardo DiCaprio and