Who is not a Beyonce fan? And in 2022, who is not a Coco Gauff fan? Well, the two might not have been able to have a face-to-face interaction, but Gauff has been praised by Beyonce's mother in the past. In 2019, when she reached the fourth round of Wimbledon, Beyonce's mother hailed her performance.
ADVERTISEMENT
Article continues below this ad
And this was enough to make a 15-year-old Coco Gauff jump out of her seat in pure joy and hoped that she must have talked about her to Beyonce too.
ADVERTISEMENT
Article continues below this ad
Coco Gauff was delighted to be acknowledged by Beyonce's mother
Beyonce is not just a music icon, she has revolutionized an entire generation's way of thinking. So, being acknowledged by her mother was an achievement in itself for Coco Gauff, when she was 15. In 2019, she had just reached the fourth round of Wimbledon after defeating Polona Hercog.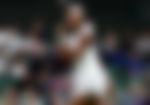 Beyonce's mother praised the 15-year-old and stated, "Yesssss 15 years old!!!!!!! she won!!!!!!! Humble, Gives God the praise !! Winning combo!!!!" To this Gauff had replied, "WOOOOWWWWW AM SO BLESSED."
ADVERTISEMENT
Article continues below this ad
The 15-year-old hoped that Beyonce saw her mother's message. And this in itself was a huge thing for the young player to be happy about. She stated, "I was, like, screaming. I don't know like I hope Beyonce saw that. I hope she told her daughter about me because I would love to go to a concert."
Gauff's impressive performances in 2022
The American rising star has consistently developed from where she was in 2019. From her rise to the limelight when she defeated Venus Williams in the first round of Wimbledon 2019, to being world no. 4 in 2022, she has come a long way. She reached her first Grand Slam final at the French Open and lost to the world no.1, Iga Swiatek. Apart from that, she performed extremely well in the US Open as well, reaching the quarter-finals.
ADVERTISEMENT
Article continues below this ad
WATCH THIS STORY: Rise of a superstar – Iga Swiatek's victorious moments on the WTA tour
Moreover, with her partner and dear friend, Jessica Pegula, she won multiple WTA titles in doubles. With Gauff and her compatriots, Taylor Fritz and Frances Tiafoe, gradually making their mark on their respective circuits, there are signs that the golden age of American tennis is finally underway.


Read More: After Relishing a Historic Moment, 15-Year-Old Coco Gauff Was Screaming With