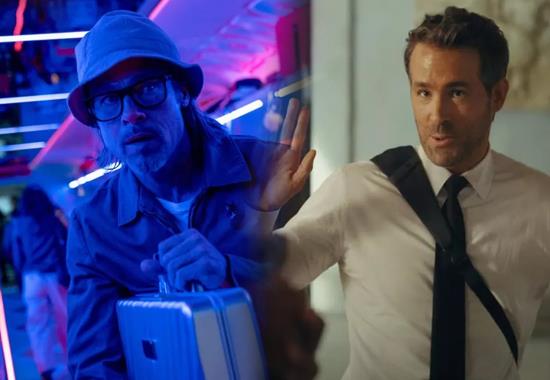 Multi-starrer film Bullet Train has been buzzing on Netflix and it has become the top most-watched movie on the OTT giant platform in multiple countries including India. Courtesy of its star cast which includes Hollywood actor Brad Pitt, Aaron Taylor-Johnson, Joey Kind, David Leitch, Sandra Bullock, Karen Fukuhara, and more, the action-packed movie is being widely appreciated by fans. Based on a Japanese novel, the action-comedy features a huge ensemble cast and is about a man who is tasked with fetching a briefcase. However, there is a catch, he is actually on a train full of assassins and other bad guys. Apart from its storyline, Netflix's Bullet Train movie has been grabbing headlines for a number of cameos done by ace actors of Hollywood. In fact, if counted there were 5 actors who acted in a cameo in Bullet Train 2022.
1) Michael Shannon as The White Death
The Bullet Train largely revolves around the Japanese mafia kingpin named The White Death. The suspense was revealed in the last one who is the White Death. The White Death is played by Michael Shannon, who is best known for his role as prohibition agent Nelson Van Alden in Boardwalk Empire and as Zod in Man of Steel. He has twice been nominated for an Academy Award for Best Supporting Actor, once in Revolutionary Road and most recently in Nocturnal Animals.
2) Ryan Reynolds as Carver
Among the various cameos, it was Hollywood actor Ryan Reynolds who pleasantly surprised everyone. In the Bullet Train, Ryan Reynolds was seen playing the character of Carver. To brush up your memory, Brad Pitt's Ladybug mentions his colleague 'Carver', the assassin who was off sick during the Bullet Train job, throughout the movie. It's later revealed that Carver attempted to kill The White Death but accidentally killed his wife instead. He unmasks during a flashback – and Reynolds' face is seen.
3) Channing Tatum
Did the prophecy in The Bastard Son & The Devil Himself Season 1 come true? The answer is..
Step-up fame actor Channing Tatum was also seen in a cameo in the Bullet Train. Channing Tatum's unnamed train passenger finds himself onboard the bullet train, hurtling for several misunderstandings with Ladybug. Their continued interaction throughout the journey confuses Tatum's character, who thinks it's code for some kind of sexual encounter.
4) Sandra Bullock as Brad Pitt's (Ladybug) handler
Hollywood actress Sandra Bullock who appears as Ladybug's handler – previously did a scratch your back, I'll scratch yours maneuver with Brad Pitt. Essentially, if Bullock appeared in Bullet Train, Pitt would appear in her movie The Lost City, hence why Bullock's appearance was not a surprise.
5) Masi Oka
Another unnoticed Hollywood actor's cameo was Masi Oka. The helpful staff member who gives Ladybug a bottle of water during a fight scene in Aaron…


Read More: 5 actors' cameo that went unnoticed in Brad Pitt's new thriller on Netflix