The last time the world heard from singer-songwriter Natalie Mering it was 2019, and Titanic Rising, her fourth album under the name Weyes Blood, was quite rightly being hailed as one of the year's best. Titanic Rising's sound was rich and very evocative of early 70s California. Its songs, however, were very much a product of the 21st century, marked by an pervading sense of imminent catastrophe, fuelled by an index of millennial worries that stretched from online dating to late capitalism and environmental collapse.
Not unexpectedly, the intervening three years haven't done a lot to improve Mering's mood. By her own account, she was not one of those people who found the Covid pandemic an unexpected but ultimately welcome reset, a chance to pause and breathe and take stock. "Has a time ever been more revealing that people are hurting," she asks, rhetorically, on Titanic Rising's successor, an album on which everything is broken and everyone is failing to connect with everyone else.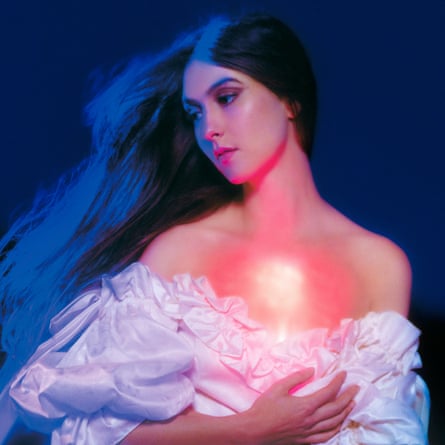 "I'd give anything to hang, I've been without friends," she protests on a song called Hearts Aglow, but when she does, it doesn't come as much relief. After a beautiful shimmer of strings, the first thing you hear on And in the Darkness, Hearts Aglow is Mering describing sitting alone at a party, "wondering if anyone knows me, really sees who I am – it's been so long since I felt really known." Should anyone wonder what Mering thinks the problem is, the accompanying video for the song It's Not Just Me It's Everybody, features her performing a choreographed pas de deux with an animated mobile phone that, when not dancing, rips the guts out of human beings. On Grapevine, she fondly recalls an ex, wondering if she'll see him again; when she subsequently does, he's driving on the other side of the road, briefly glimpsed as he speeds in the opposite direction. It's a worldview perhaps linked to her unwise lockdown arrangements. "I should have stayed with my family," she ruefully complains as the album draws to a close, "I shouldn't have stayed in my little place in the world's loneliest city" – hardly a line that her adopted home town of Los Angeles is going to be using in its tourism literature, no matter how successful And in the Darkness, Hearts Aglow becomes.
Whatever havoc the pandemic may have wreaked on Mering's already gloomy outlook, it's done nothing to spoil her melodic facility. And in the Darkness, Hearts Aglow gently bombards you with one fantastic tune after another: the lovely sigh of Grapevine; Twin Flame, on which her vocal soars away from the sparse synthesiser and ancient drum-machine backing; the deceptively carefree-sounding Children of the Empire, surrounded by a complex, Brian Wilson-inspired arrangement that ultimately involves everything from tubular bells to a tuba, but never sounds overwrought.
In…


Read More: Weyes Blood: And in the Darkness, Hearts Aglow review – gloom becomes a thing of